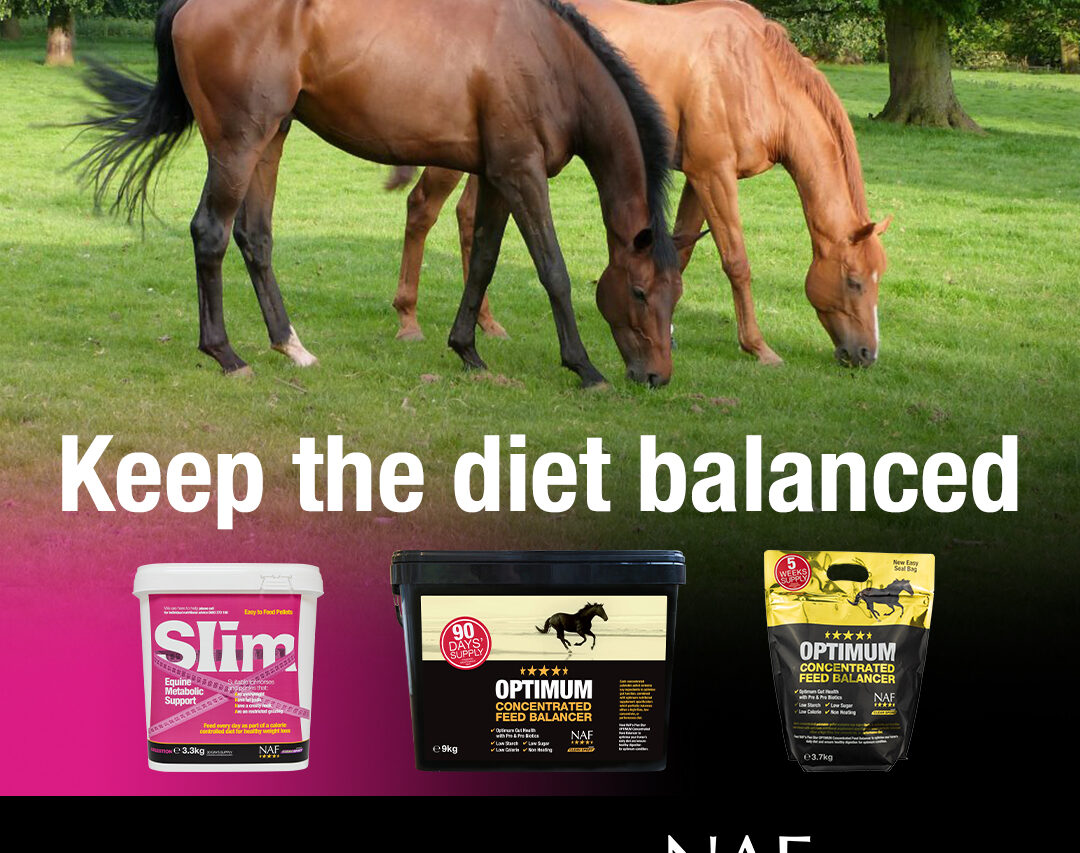 Kate Hore RNutr (Animal) R.Anim.Technol (Cert). Head Nutritionist at NAF
As we start to think about feeding our horses and ponies through the darker days of winter ahead, now is a good time to be reviewing their diet. With the current economic pressures fresh in our minds, how do we ensure our horses and ponies are on a healthy balanced diet, but one that won't break the bank?
Don't horses just eat grass?
It can be an easy assumption to make, particularly while the grass is still growing, that your horse's pasture provides for all their needs. However, this is actually rarely the case. Modern equine pastures usually have very poor biodiversity – maybe just one or two species of grass and a legume (clover). Imagine trying to provide your family with healthy, nutritious, meals which only ever contain three ingredients? Not very easy. Added to this, nutritious grass relies on healthy soil, which, in turn, rely on crop rotation to maximize nutrients. When a permanent single crop, i.e. pasture, is added to local geographical pressures, nutrients deficiencies are common in grazing across the UK. This pressure on soil quality is being added to by global warming, such as increased high rainfall events which cause leaching and soil erosion; and given that equine pasture is rarely fertilized, the issue of an unbalanced diet grows. The end result being that we cannot rely on our horse's grazing to provide a balanced diet at any time, and that pressure only grows with the winter diet.
Fibre focused
As grass growth drops off, our horse's fibre requirements must be met through preserved forage. The natural forage based diet is one of the best ways to maintain digestive health and support general immunity, and we should be looking to provide ad lib forage to allow for natural trickle grazing. For those prone to weight gain, ask for WSC analysis of hay or haylage, and it may be necessary to soak hay to reduce levels appropriately.
Preserved forage carries forward all the soil deficiencies associated with fresh grazing, but those issues are further exaggerated by nutrient loss through preservation. Vitamins, in particular, while they can be well provided in pasture, are easily lost through drying and ensiling. Therefore, it is important that we supplement the equine diet to provide a healthy, balanced diet.
Balance the diet & Balance the books
Read the back of any Horse & Pony Cubes or Muesli bag, and you might be quite surprised by how much you need to feed, in order to meet those vitamin and mineral requirements. A 500kg Riding Club horse in quiet to medium work, is likely to need at least 3kg a day, split between meals. Not only may this level lead to unwanted weight gain, particularly over the quieter winter months, but it is also likely to cost at least £60 a month. No surprise then, that we increasingly look to concentrated balancers and powdered supplements to provide the essentials, without the unwanted bulk and expense.
Super concentrated, NAF Optimum Balancer provides all their essential micronutrients, together with prebiotics, live probiotic yeast and natural digestive aids, to maximize gut health, all in just 100g per day. Optimum can be fed on its own, or with a little chaff to add fibre to the bucket, and at around £25 a month, it represents a significant saving over bagged feed. For the good do-er, NAF Slim Pellets is the ideal choice of concentrated, natural balancer.
Alternatively, if you prefer a simple scoop of powdered supplement, added to chaff or a fibre feed, then NAF General Purpose Supplement provides a broad range of vitamins and trace elements from just 40p per day*.
In conclusion, we can see it is important to supplement your horse or pony's diet to provide a balance of required micronutrients for general health and vitality. By keeping their diet fibre focused, and topping up with a concentrated balancer or powdered supplement, we can provide a diet that is natural to them and economical for you.
*based on 2kg refill bag.